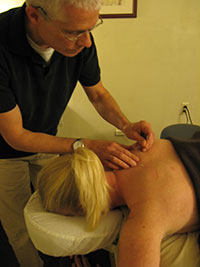 The practice of acupuncture is based on the idea that energy channels, called meridians, exist beneath the skin. Meridians are similar to an electrical grid that branches out and connects the surface of the body with the internal organs. If a meridian becomes blocked, it may result in pain or other symptoms of poor health. Meridian obstructions may be caused by physical or emotional trauma, sleep disturbances, digestive issues, or the stress of everyday life.
The acupuncturist will take your pulse, examine your tongue, and discuss your medical history to help determine which energy channels are blocked. Small needles are inserted into specific points along the channel to move the energy, or Qi (pronounced chee). By opening up the channel the Qi can flow properly and balance is restored in the body, resulting in symptom relief and improved health.
Acupuncture treatment is safe and has no known side effects. The patient may feel a slight pinch when the needles are inserted but the procedure is generally pain free. Once the needles are in place, the patient will relax on the treatment table for 15 to 30 minutes. Most patients find acupuncture to be relaxing and therapeutic. Relief may be experienced after only one treatment, or after a series of treatments. In addition to the acupuncture treatments, your acupuncturist may recommend herbal remedies and suggest changes to your life style or diet, and provide helpful exercises to maintain good health.
Acupuncture has proven effective in treatment of a variety of ailments including:
Respiratory
colds and flu
asthma
bronchitis
sinus infection
allergies
Neurological
Bell's/Cerebral Palsy
stroke
neuropathy
headache
Dermatological
acne
skin rashes
herpes
eczema
Emotional
anxiety
depression
stress
insomnia
Musculo-Skeletal
back/neck pain
sciatica
bursitis/tendonitis
arthritis
sprains/strains
Geno-Urinary/Reproductive
infertility
impotence
PMS
morning sickness
irregular menstruation
Other
irritable bowel/colitis
thyroid problems
hypertension
diabetes
MS